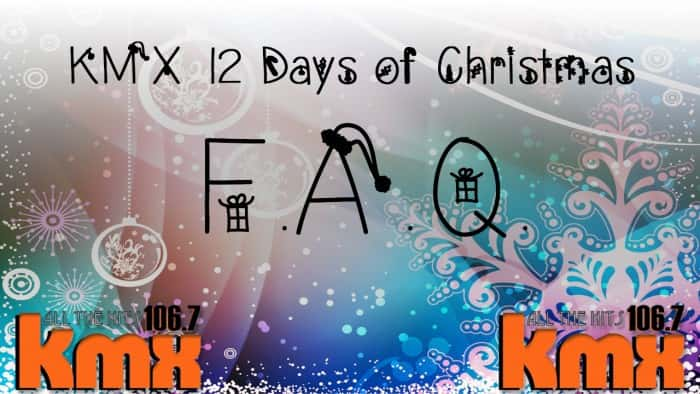 Can I enter more than once? – YES! Absolutely! Enter as many times as you can. We encourage it!
I've tried to call but the line is busy. Is someone even there? – YES! If you heard the Holiday Cue to Call, we are 100%, guaranteed, definitely taking calls. Just keep trying. You have until the song ends to get in. Odds are you're going to make it in AT LEAST once.
What is in the stockings? – A whole bunch of prizes from businesses around the Wiregrass area.
I want specifics. – Too bad. Santa doesn't tell you what you're getting before the big day and neither will we.
What's the phone number, again? – (855)251-1067
If I've won on KMX or the KMX Facebook Page in the past 30 Days, am I eligible to win one of the stockings? – Yes. We decided to waive the 30 Day Rule for this promo. However, it still applies to all other promotions on-air and online, so please be mindful of that and give other listeners a chance to win.
Can I register to win if I'm under 18? Yup. We have a few stockings that are great for any age! You do, however, need to have a valid picture ID. But that goes for anyone. Basically, if you can get here to claim your stocking, and you can prove you are who you say you are, you're golden!
Can my whole family register? – Yes. However, only 1 of you can win. But we're pretty good a keeping up with that sort of thing, so go ahead and enter all you want. Just know that no matter how many of you enter, if chosen, your household can only claim 1 stocking.
If your question hasn't been answered on this page, message us on the Late Show with Becca Facebook Page or the KMX Facebook Page and we'll get back with you ASAP.
Thanks for listening and Happy Holidays from all of us here at KMX!