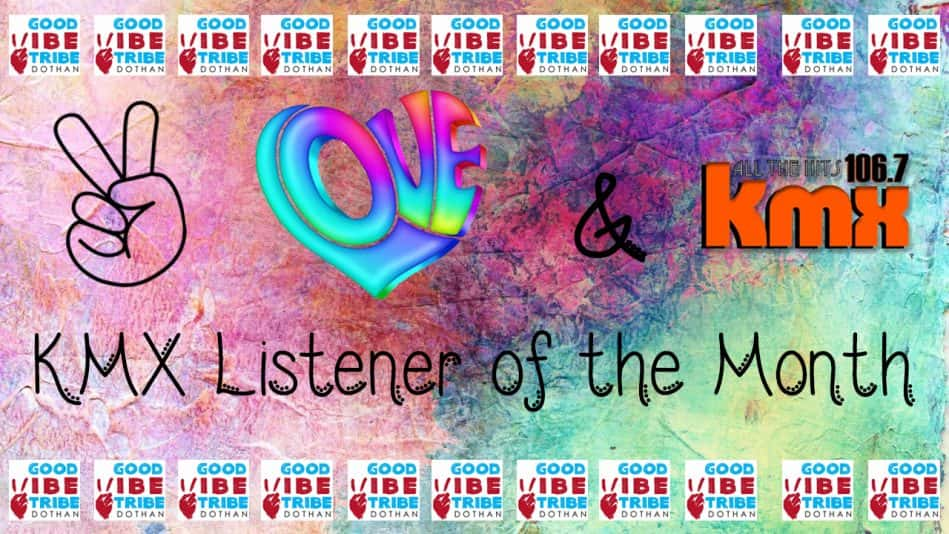 The KMX Team wants to recognize one of YOU!
We've teamed up with Dothan Good Vibe Tribe to find KMX listeners with a passion for contributing to the greater good and a heart to inspire!
If you or someone you know, love KMX and contribute awesomeness to the community and world around you, we want to hear your stories!
Send us an email at 106.7wkmx@gmail.com with your story, your contact information(or your friend's contact information, if you're nominating someone else), & a public friendly photo. Use the subject line "KMX Listener of the Month Nomination".
Each month, our winner will be featured here on the website, on our KMX Facebook Page, and on the monthly KMX Newsletter sent to our KMX listener club. We also have some amazing prizes in store, but to find out what they are, you'll have to make it into the Listener of the Month club.
If you have any questions, just shoot us an email.
– 106.7wkmx@gmail.com –
We look forward to hearing your stories about how our KMX listeners are making the wiregrass a better place!