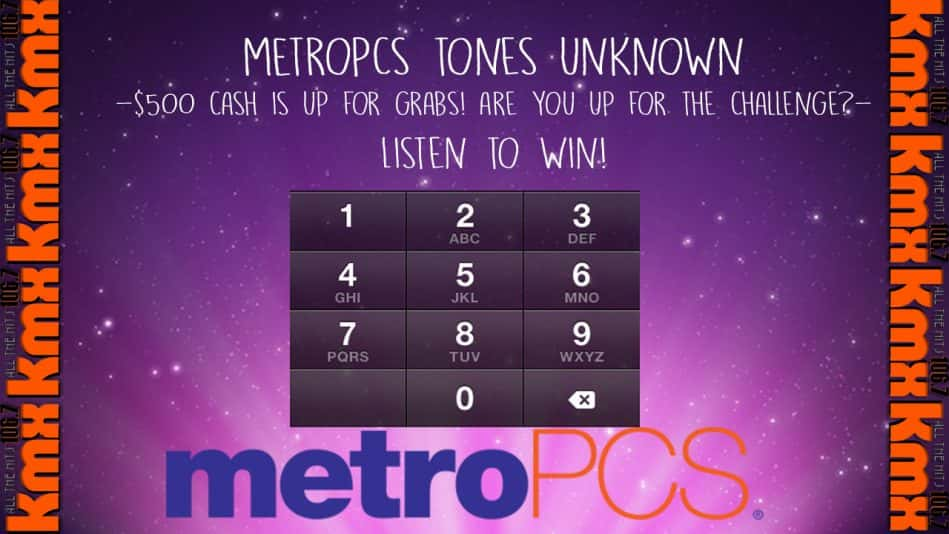 KMX & MetroPCS want to help you Tone up your phone!
Or really any part of your life that could benefit from $500 CASH!
Well YOU are in luck! KMX & MetroPCS have teamed up to help out!
Listen to KMX for the MetroPCS Tones!
What are the tones? Well, a long, long time ago, when phones had buttons, each number was assigned a specific and universal tone. We've created a series of tones that correspond with those numbers. Your job is to try and figure out what number we've created!
Once you've figured out your guess, head to your nearest MetroPCS location!
The following MetroPCS locations are participating:
1561 Montgomery Hwy
Dothan, AL 36303
1880 S. Oates St
Dothan, AL 36301
307 Columbia Hwy Ste. 2
Dothan, AL 36301
621 Boll Weevil Cir
Enterprise, AL 36330
1135-A US 231 S
Troy, AL 36081
Each location listed above has a flyer with a QR code you need to scan. It will take you to a page on the KMX website, only accessible through the QR code that is only available INSIDE the MetroPCS locations.
A winner will be chosen from the correct entries on September 1st.
Make sure you tune in to 106.7 WKMX to see if you won!
You may only enter once per day per listener(email address).
**MUST BE 18 OR OLDER TO WIN**